Our trucks are more than just trash trucks.  Their unique designs illustrate kmG's commitment to making a difference in the community. When people see our trucks, we want people to be inspired. How do we do this? We show our appreciation by turning our trucks into mobile billboards with messages to support the troops, as well as creating awareness for different types of health conditions. We hope to motivate thousands of those in the DMV to act!
kmG Hauling was founded on the idea to change the look and reputation of the waste management industry. Many people associated garbage trucks, trash containers and disposal companies as either old, run down or plain dirty. To change these perceptions, we conceptualized the flame design. Our flame design was first installed on our metallic green truck. By overhauling our look, we wanted to make a statement on how passionate we were about our business.
As we continue to increase our fleet, we evolve and adapt to modern, state-of-the-art methods for removing waste, as well as using our trucks for good. Creating a captive customer base in the DMV has given us the opportunity to spread our approach and philosophy locally, while social media has broadened our reach nationally.
In creating our first awareness campaign, we painted our trucks bright pink to bring awareness to breast cancer. We were not sure how people would react to seeing a bright pink truck driving down the street, but we were met with an overwhelming amount of positive support.
---
Years later, pancreatic cancer took the life of an aunt of Hugo Garcia (our president) and the mother of a close family friend. To commemorate the devasting losses and honor our loved ones, we rolled out a fleet of purple trucks to create awareness of the horrible disease. In turn, social media helped us garner national recognition for spreading the word about pancreatic cancer.

---
Not long after we unveiled our purple truck, Mr. Garcia was contacted by a friend who shared a story about Mathias Giordano, a local 13-year-old child battling cancer. Although we didn't know Mathias personally, the story touched our hearts and compelled us to take action. We were honored to help bring childhood cancer awareness to the forefront for Mathias and his family by painting our trucks gold. We're very proud to be a part of a community that continues to support Mathias and his family.
In this spirit, kmG has proudly partnered with Ellie's Hats in support for finding a cure for childhood cancer. To learn more about the great work they do, please go to their website at  https://ellieshats.org/.
---
We don't stop at just supporting cancer, we also want to show our support to our military.  There aren't enough words to justify what pride we have in our troops, and for what they do for our country. We added a black truck to our fleet to show our support.
Be it cancer awareness or supporting our troops, kmG is very proud and honored to show our support.  kmG remains committed to making a difference in our communities.
---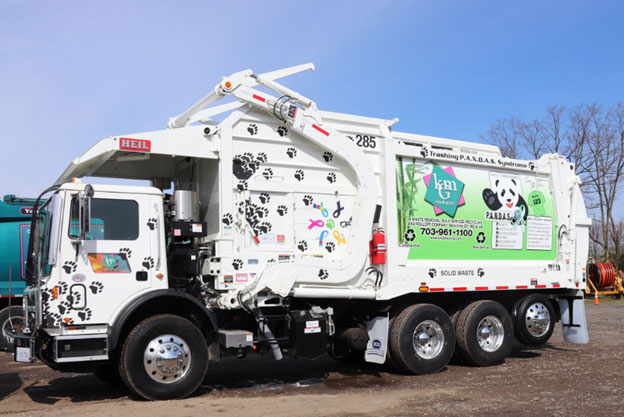 P.A.N.D.A.S. stands for pediatric autoimmune neuropsychiatric disorders associated with streptococcus. The syndrome involves sudden and often major changes in personality, behavior, and movement in children following a strep infection. In 2018, kmG learned of a family whose son was diagnosed with P.A.N.D.A.S. After hearing of that story and how it affects not only the child, but also the family, kmG felt compelled to create a truck to bring awareness to others. Since the creation of the first P.A.N.D.A.S. truck, 3 more have been created and can be seen driving through the DMV.
In March of 2021, kmG unveiled a truck that is near and dear to the Garcia family, as well as the company. Hugo's father, Aurelio Garcia, was diagnosed with Type 1 diabetes at a young age. Type 1 diabetes is a chronic condition in which the pancreas produces little or no insulin. Insulin is needed to allow sugar to enter cells to produce energy. For these reasons, kmG unveiled its final truck of the awareness campaign, the Type 1 Diabetes truck.

In honor of Autism, which now affects 1 in 54 children, and over half are classified as having an intellectual disability or borderline intellectual disability, we are honored to present two of our newest trucks to our fleet to continue bring the Awareness to the forefront.
Autism spectrum disorder (ASD) is a developmental disability that can cause serious social communication and behavioral changes. People with ASD often do not have physical characteristics that sets them apart from other people, but people with ASD May interact, behave and communicate differently. A person with ASD learning, thinking, and problem solving abilities range from severely challenged to gifted. Someone with ASD may need a lot of support or maybe just strategies to get through daily life. ASD occurs in all ethical, racial, and socioeconomic groups, however it is about 4 times more common in boys than girls.
"It seems that for success in science and art, a dash of autism is essential."
Hans Asperger